Surf Forecast
*This is Rory Gregg with your Northeast Florida Surf Forecast*Updated 3/31/15*
A quiet start to our week as high pressure snugs into the Gulf. We won't be cruel and play an April fools joke on you and tell you there is a mack daddy swell on the way anytime soon, and whenever you see the "Big H" on the weather map sitting in the Gulf it usually doesn't bode well for our swell window. With that said, the Easter Bunny looks like he'll be bringing us some surf come Sunday! We have a little low pushing off the Mid-Atlantic at present and another little patch to follow. We should see some little waves start to build throughout the week, and with a waxing moon phase we'll see some big tides! Time your sessions wisely around the tides and you could find a bump or two to have some fun on! It's time to get out there to your favorite local surf shops this week to buy some goodies for the Easter baskets. Maybe build a basket with a pair of flops, a leash, wax, combs, fins, and a traction pad! Or how about a pair of shades, a hat, and a couple tees! Also, make sure to get your restaurant reservations in for Good Friday at your favorite seafood joints and they will get booked up quick!
–
3/31 – TUESDAY 
SURF SIZE: 1ft
SWELL DIRECTION: ENE
CONDITIONS: WSW winds 5-10+ all day.
4/1 – WEDNESDAY
SURF SIZE: 1ft
SWELL DIRECTION: ENE
CONDITIONS: WSW winds 10-15 in AM turning W then WNW to ENE late 5-10.
4/2 – THURSDAY
SURF SIZE: 1-2ft
SWELL DIRECTION: NE
CONDITIONS: light ESE winds in AM increasing to 5-10 in PM.
4/3 – FRIDAY
SURF SIZE: 1-2ft+
SWELL DIRECTION: E to ESE
CONDITIONS: SE winds 5-10 all day
4/4 – SATURDAY
SURF SIZE: 1-3ft
SWELL DIRECTION: ESE
CONDITIONS: SW winds 5-10 in AM turning NNE 5-10 in PM.
4/5 – SUNDAY
SURF SIZE: *2-4ft+
SWELL DIRECTION: NNE
CONDITIONS: NE winds 5-10 in AM turning E 5-10+ in PM.
4/6 – MONDAY
SURF SIZE: *2-4ft*
SWELL DIRECTION: E to ESE
CONDITIONS: E winds less than 5 in AM turning ESE 5-10 in PM.
–
*Forecast Disclaimer*: The local forecast is updated every Tuesday (& Friday if conditions change). However, updates may be more or less frequent depending on conditions. Contact us with any feedback/suggestions.
TROPICS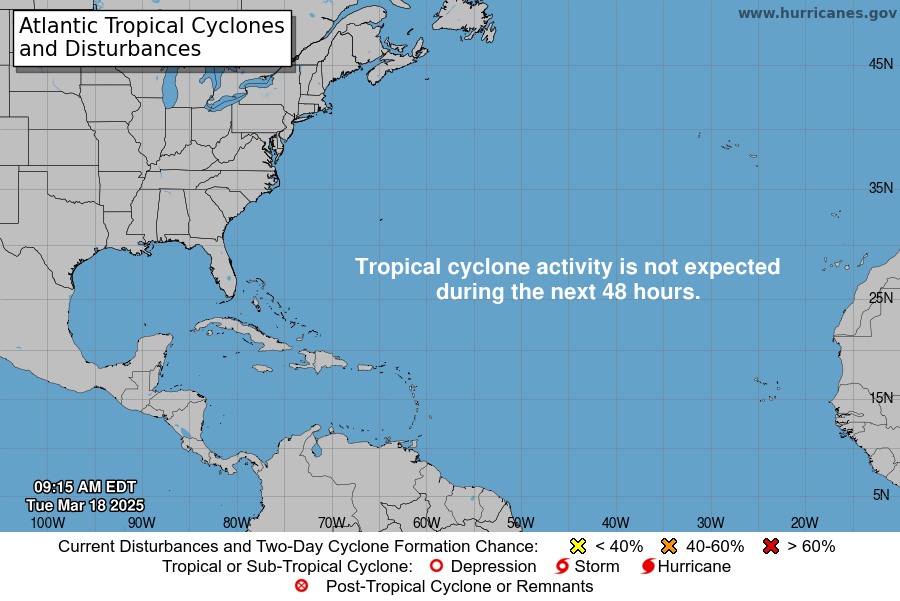 Jacksonville Weather Forecast
*Forecast disclaimer: We do our best to predict conditions based on available models and weather forecasting technology. it is nearly impossible to be 100% accurate all of the time and with continuously evolving and varying weather conditions the only thing that you should count on is that things will change. Hopefully you find this page to be a valuable resource. We will do our best to update this page as things change. See you in the line up.