Surf Forecast
*SWELL ALERT*This is Rory Gregg with your Northeast Florida Surf Forecast*Updated 11/25/14*
Hope everyone had an action packed weekend, and looking forward to a fun Turkey week ahead! Big Congrats and shout out to Red Bull Night Riders Champ, Tristan Thompson, for showing the elder statesman how to get it done! Also for those that made it out to the Lannadoo fest it was a hit! We've had a good run of surf the last few days from some crazy fronts pushing through, and winter storm Cato is about to smack the Mid-Atlantic to the Northeast with some more heavy conditions. We won't see too much swell from Cato as it moves offshore over the next few days, but we'll have some fun surf through Thanksgiving, and another little perk in swell size by Friday! Dropping water temps and Black Friday approaching means only one thing, time to get a jump on the crowd and get to your favorite local surf shop to scoop up a new wettie for the winter! Happy Thanksgiving everyone, and we'll keep our eyes on the radars to see what swell we'll have in store to work off some of those extra calories in the surf on Friday!
–
11/25 - TUESDAY
SURF SIZE: *2-3ft+*
SWELL DIRECTION: ESE
CONDITIONS: NNE winds 5-10 all day.
11/26 – WEDNESDAY
SURF SIZE: *2-3ft*
SWELL DIRECTION: ENE
CONDITIONS: W to WNW winds 10-15+ all day.
11/27 – THURSDAY *HAPPY THANKSGIVING*
SURF SIZE: 1-2ft
SWELL DIRECTION: ESE
CONDITIONS: SW winds 5-10 in AM turning W 10-15 in PM.
11/28 – FRIDAY 
SURF SIZE: 1-3ft
SWELL DIRECTION: NE
CONDITIONS: NNW to N winds 10-15 all day.
11/29 – SATURDAY
SURF SIZE: 1-2ft
SWELL DIRECTION: E
CONDITIONS: WNW winds 10-15 in AM turning W to WSW in PM 5-10.
11/30 – SUNDAY
SURF SIZE: 1-2ft
SWELL DIRECTION: E
CONDITIONS: winds light and variable all day less than 5+ from W to E.
12/1 – MONDAY
SURF SIZE: 1-2ft
SWELL DIRECTION: E
CONDITIONS: NE winds 5-10 all day.
–
*Forecast Disclaimer*: The local forecast is updated every Tuesday (& Friday if conditions change). However, updates may be more or less frequent depending on conditions. Contact us with any feedback/suggestions.
TROPICS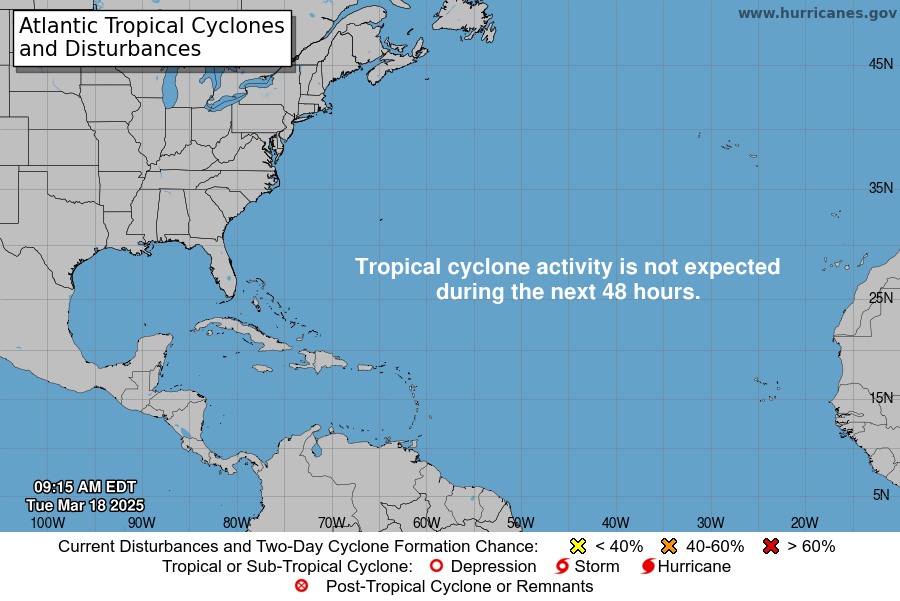 Jacksonville Weather Forecast
*Forecast disclaimer: We do our best to predict conditions based on available models and weather forecasting technology. it is nearly impossible to be 100% accurate all of the time and with continuously evolving and varying weather conditions the only thing that you should count on is that things will change. Hopefully you find this page to be a valuable resource. We will do our best to update this page as things change. See you in the line up.