Surf Forecast
*SWELL ALERT*This is Rory Gregg with your Northeast Florida Surf Forecast*Updated 2/24/15*
Wow… What a wacky run of weather and waves we've had this month, and it doesn't seem to be letting up anytime soon! Major cold front slinging wrecking balls of snow to the north of us on a weekly basis, and I bet all of those people, as well as us, are ready to send out the militia to hunt down that darn groundhog! Winter storm Remus is reaming the region right now from Texas all the way across the East Coast and beyond with another clipper ripping through the Great Lakes states too. We will see some fading windswell/groundswell into tomorrow, and then most of the elephants in the heard will be marching south again throughout the week. Come Saturday, get suited up for the bell to ring again! If you want to thaw out a bit and have the time, heading down past the Cape could be a good call depending on where you want to go you could score. Or just tough it out home-side for a few more days and get ready to rumble with the next blast of northeast juice! Spring will be right around the corner, finally, and it isn't a bad idea to start shopping at your favorite local surf shop for the that topper, short-john, or spring suit!
–
2/24 - TUESDAY
SURF SIZE: *2-3ft*
SWELL DIRECTION: ENE
CONDITIONS: N winds 5-10+ all day.
2/25 – WEDNESDAY
SURF SIZE: *2-3ft+*
SWELL DIRECTION: NE to E
CONDITIONS: NE winds 5-10+ all day.
2/26 – THURSDAY
SURF SIZE: 1-3ft
SWELL DIRECTION: SE to E
CONDITIONS: light WNW winds in AM turning NNE 5-10 in PM.
2/27 – FRIDAY
SURF SIZE: 1-2ft
SWELL DIRECTION: NE
CONDITIONS: NE winds 10-15 all day.
2/28 – SATURDAY
SURF SIZE: *2-4ft+*
SWELL DIRECTION: NE
CONDITIONS: NE winds 15-20 all day.
3/1 – SUNDAY
SURF SIZE: *4-6ft*
SWELL DIRECTION: ENE
CONDITIONS: NNE winds 5-10 all day.
3/2 – MONDAY
SURF SIZE: **2-4ft**
SWELL DIRECTION: ENE to E
CONDITIONS: light N winds in AM turning NE 5-10 in PM.
–
*Forecast Disclaimer*: The local forecast is updated every Tuesday (& Friday if conditions change). However, updates may be more or less frequent depending on conditions. Contact us with any feedback/suggestions.
TROPICS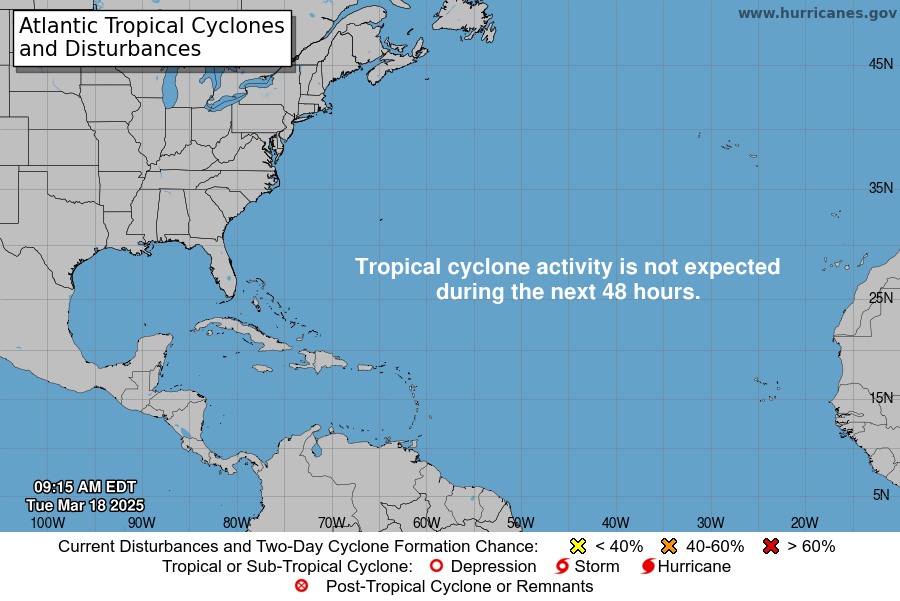 Jacksonville Weather Forecast
*Forecast disclaimer: We do our best to predict conditions based on available models and weather forecasting technology. it is nearly impossible to be 100% accurate all of the time and with continuously evolving and varying weather conditions the only thing that you should count on is that things will change. Hopefully you find this page to be a valuable resource. We will do our best to update this page as things change. See you in the line up.